It's officially the first Monday of the new year for me, which means that the holidays are over and I'm mostly recovered and I'm ready to get back into real life again. Yes, I've taken my time getting it together, but I'm glad I did. 2008 is going to great and full of new possibilities! But before I move on, I'll recap some of my NY trip for you.
We decided to make it a road trip, because we love road trips. That meant 13 hours of driving the first day, 11 hours the second day and 5 hours the third day. It's a lot, but the scenery was beautiful and we enjoyed every second. When we arrived in NY it was snowing! As we made our way over the bridge, I finally caught my first glimpse of the NY skyline. For the first time in almost 25 years l was home. I was HOME!
The emotions that overtook me in that moment are hard to describe, but I can say that it was a combination of relief, healing and fulfillment. I cried hysterically while navigating the highway and Kent did his best to keep me calm so we wouldn't run off the road. Once I calmed down we were able to find the hotel and get settled and begin our adventure.
We took our first train ride into the city and walked up the stairs and out onto 14th st. At first it was overwhelming and a little scary, but we held hands as tightly as we could and made our way to 18th. New York city has the most amazing and diverse population and we we saw it all. A man with a cat on his head waited beside us to cross the street. I mean a real cat... on a leash... happily sitting on his head. I regret not having the courage to take a picture. I did however create this photoshop re-enactment....
We scoped out the Pavillion where the Bust show would be held. It was a "trial run" and proved to be really helpful. Afterward, it was off to meet our friend Art and his wife Leah for dinner at Arturo's.
We had baked clams, mozzarella with sun dried tomatoes and olive oil,  and a wonderful pizza. The place was packed! I mean that we were practically on top of strangers, but it was totally worth it. Later, I stood on the corner to take a picture of the restaurant and 15 ft away from me a cab crashed into another car.  Yikes!  Overall, it was an exciting and fun first day in NY.
The next morning we had to arrive at 8am to set up my booth.  We rode the path train to the city an walked 3 and half blocks to get to the Pavillion.  This time we did it with 2 suitcases, a set of folding shelves and a rolling rod in a box!   Crazy.  I can't say much about the Bust show. It was definitely not a successful show for me, but I did meet some amazing people, including Amy Sedaris.  I also traded for a killer
shirt that says "Kittens!" on it.   The show ended at 8pm and we were ready to put it behind us and get back to the hotel. 
Later, we sat and talked and enjoyed the view of the city while having a lovely Sushi dinner at Komegashi.
Sunday was one of my favorite days in NY. We met my Aunt and Cousins at the 9th st station and spent the afternoon in Chinatown.
We had a fantastic lunch and then walked through the streets completely in awe. We also made our way through Little Italy where we bought cannolis on the street. It was more beautiful and lively than I could have ever imagined and I think that was the day we officially fell in love with the city. It was also a wonderful moment for me to reunite with my family after so many years.
As the sun went down we found the MOMA Design store in SoHo and I scored a set of socks made from recycled Japanese Yarn. Just $15 for 5 pair.
 We ended the evening with a fantastic dinner at CremCaffe on 2nd avenue. Kent had his first Ravioli made with real ricotta, which blew his mind and I had an out of this world cheese tortellini.  The restaurant was dark and quiet with lots of charm.  My aunt and cousin were gracious hosts and we spent the time catching up and looking over old photos.  Perfect.  Kent and I then decided to explore the East Village.  We made our way past the church where I was baptized as a baby and headed for the quirkier and some might say seedier area near St. Marks place.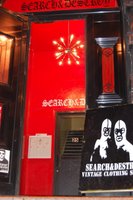 Of course we felt right at home.  We found one great record store after another and in between were tattoo shops, several sushi restaurants, comic stores, vintage shops and so much more.  It's a freaks' paradise.  
So, that's it for the moment. More tales of the city with Kent and Judy in the next blog.